Mauve Ribbed Turban
Regular price

$0.00 USD

Sale price

$24.00 USD

Unit price

per
SATIN LINED turban hat for babies
The perfect accessory to complete your little one's look! Modern, stylish, comfortable to wear, and lined with satin to protect your baby's hair from frizz, knotting, breakage and overall damage.
Available in multiple colors and fabrics
Make sure to check sizing before purchasing!
Share this look
Size Guide

S/M

15-17in circumference and fits most heads between 0-6months comfortably depending on your baby's head circumference.

M/L

17-19in circumference and fits most heads between 6-12+ months comfortably depending on your baby's head circumference.

For All

The amount of hair your baby has may also affect sizing/fit.

Please note that sizing is an estimate and every baby is different. When in doubt, we recommend sizing up!
Why Satin

Why we choose satin for our babies

At Aarin & Co. we line all of our headwraps with high quality stretch Charmeuse Satin, one of the best types of satin out there. Unlike cotton, which absorbs moisture from hair and skin, satin is silky smooth, repels moisture, and promotes maintenance of healthy hair. 

The fact is, no one spends more time laying down on their backs than our babies! These surfaces (cotton) are unfriendly to your baby's hair and skin. Our satin-lined products help protect your baby's hair from frizz, knotting, and breakage that lead to that oh-so-common bald spot in the back of your baby's head. All while promoting hair growth and overall healthier hair. 

Making the choice to dress your baby in an Aarin & Co. headwrap isn't just choosing style, but choosing to help keep your little one's hair healthy and curls fresh! 
Disclaimers

1. The color may vary depending on device screen

2. Our headwraps are hand tied and machine sewn so there may be subtle differences from one piece to the next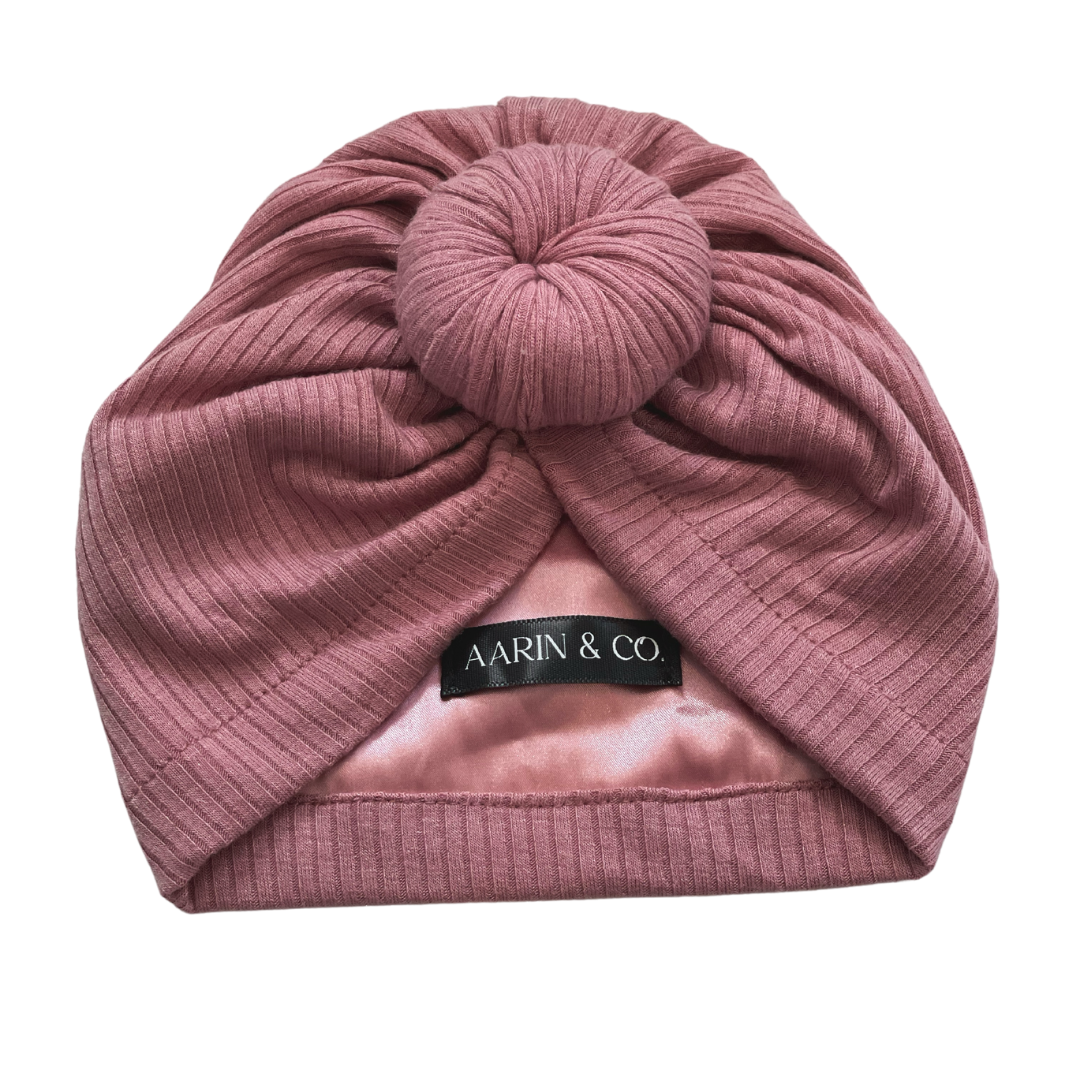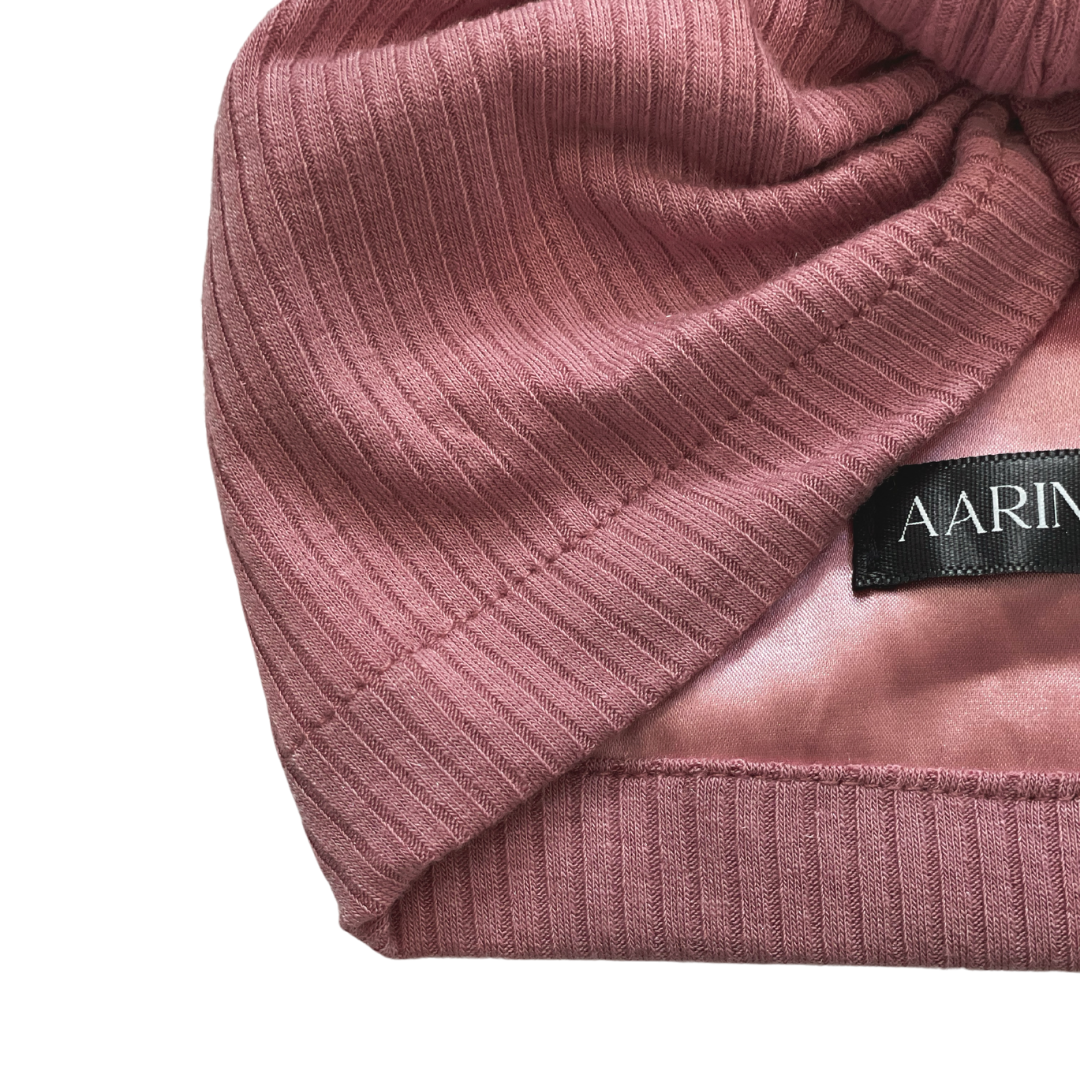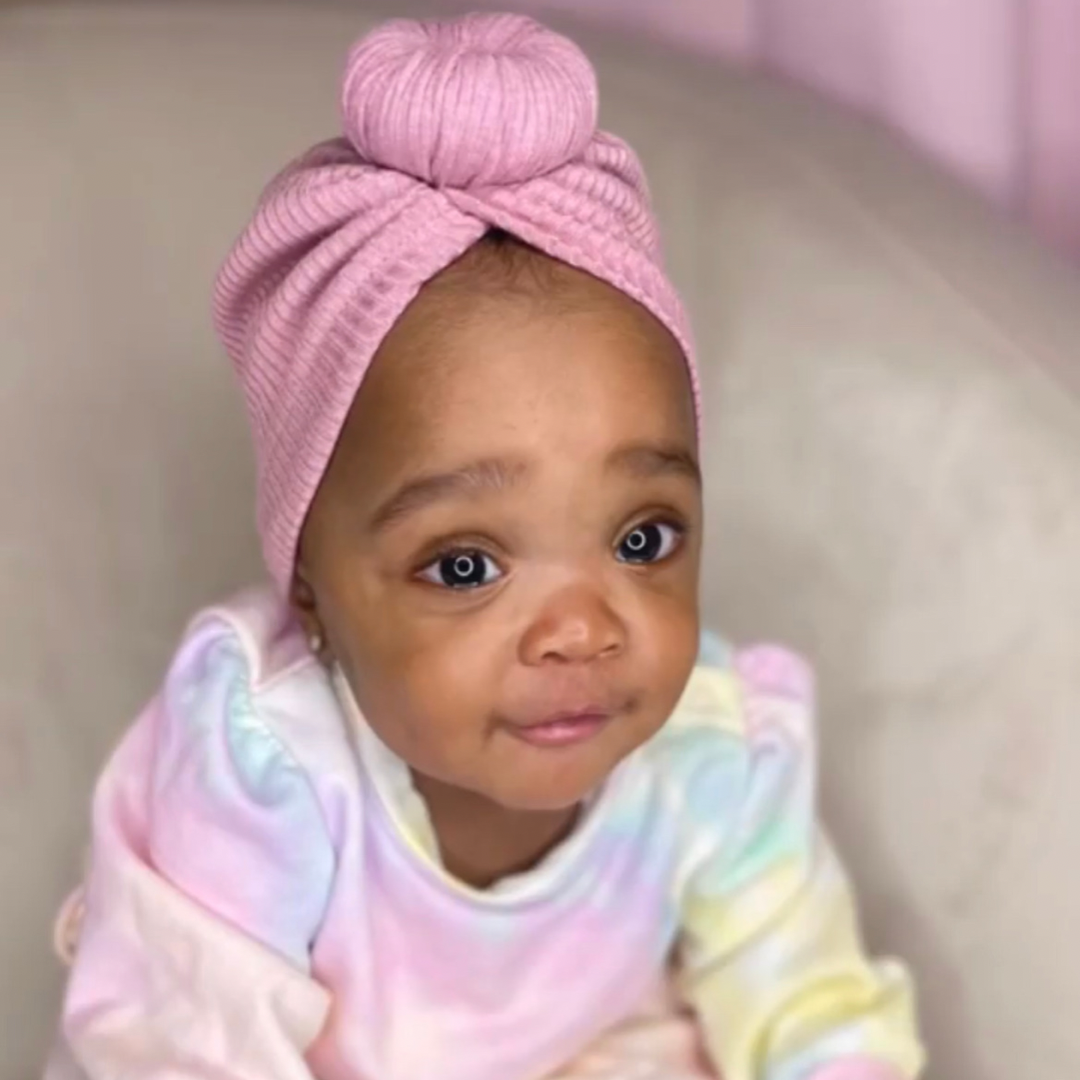 Made for any race
My daughter was getting bald spots from all this laying around and these honestly saved her life I had tried rosemary water rose water I was trying anything to help her hair grow and not get damaged and honestly these hats are heaven I had ordered a m/l by mistake and my baby is 3 months old and it did fit kingda big I would suggest the s/m for kids 6months and under also personally I loved the Ones u don't tie die to the fact I feel it's more comfortable when they lay back then laying on a knot I do have both kind and she does wear the one you tie when she's up and going or up that way she don't try to pull it off but back to the point do buy so worth the money
Just what I expected
Haven't tried them on my baby yet (brought them while still pregnant). Hopefully they fit her head!
Adorable and high quality!
I bought this hat in mauve and white in size S/M. My baby will be born in a few weeks, and I'm thinking she may have to grow a bit before they'll fit. However, both hats are beautiful and high quality. I can't wait to get to use them!
Very Good Material
I love the turban for my one year old; she looks so cute in it. I ordered the regular turbon yet received the drawstring turbon. I have to say it's great for heads that don't keep the regular turbon on. I reached out to support and they sent me the one I ordered, so I get to see the difference between the two and which will work best for my baby because I am definitely going to order again. It's great quality and great customer service. Thanks again.
Perfect. Soft silky perfect for my babies head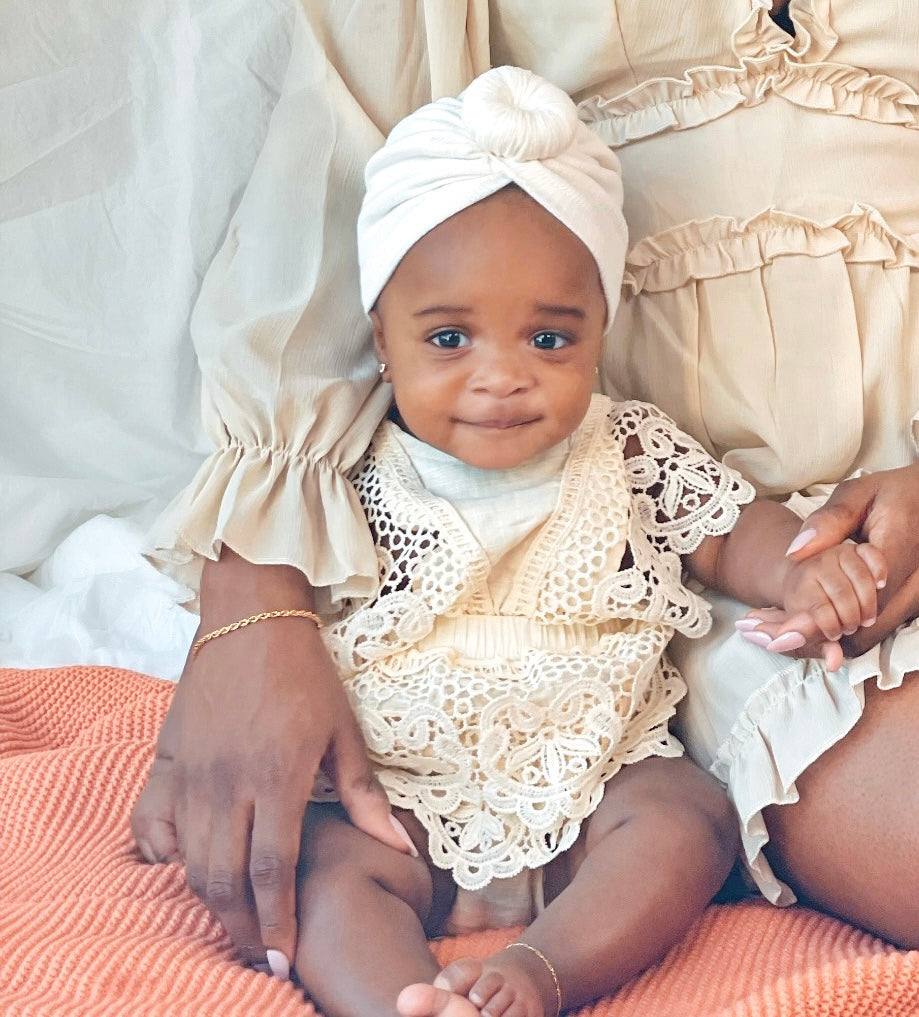 Worry less about baby balding
Our turbans are made with your baby's hair care in mind, all without compromising her style.
Model is 6mo wearing our Snow Ribbed Turban in size S/M.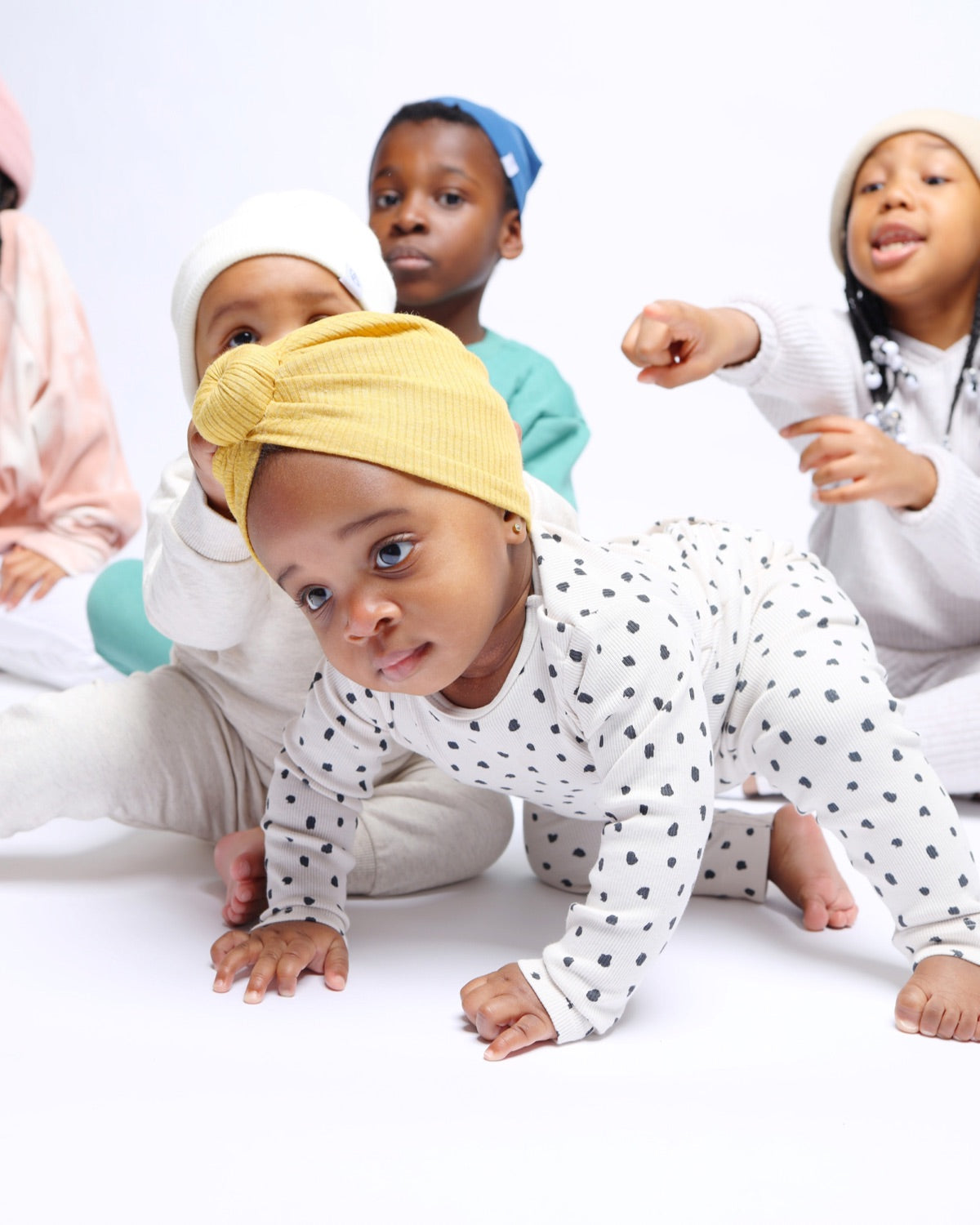 For the cool kids in your life
Model is 9mo wearing our Mustard Ribbed Turban in size M/L.