The Brand
At Aarin & Co., we're all about celebrating your little one's hair in its most vibrant, natural glory. Just like you, we believe that hair is more than just strands – it's a canvas of self-expression, a tapestry of stories, and a reflection of love and care. Our mission begins with a simple principle: healthy thriving hair is a lifelong journey, and it starts at birth.
As a mom owned brand, we understand the never-ending To-do list! We are on a mission to help you reimagine caring for your little one's hair through our thoughtfully designed high-quality products. Whether you're looking to promote hair growth or prevent all the frustrations (dryness, frizz, knotting, breakage) that lead to unmanageable hair, we want to provide you with simple ways to achieve your goals without disrupting your existing routine.
While our products are undeniably stylish, they are more than just accessories. They bridge the gap between fashion and haircare affording you an effortless way to care for your baby's delicate hair from birth, beyond wash day,  jumpstarting their healthy hair journey. Together, we're redefining what haircare means, one satin-lined headwrap (and other great products) at a time. So, here's to healthier baby hair (literally!), worry free parents, and happy babies!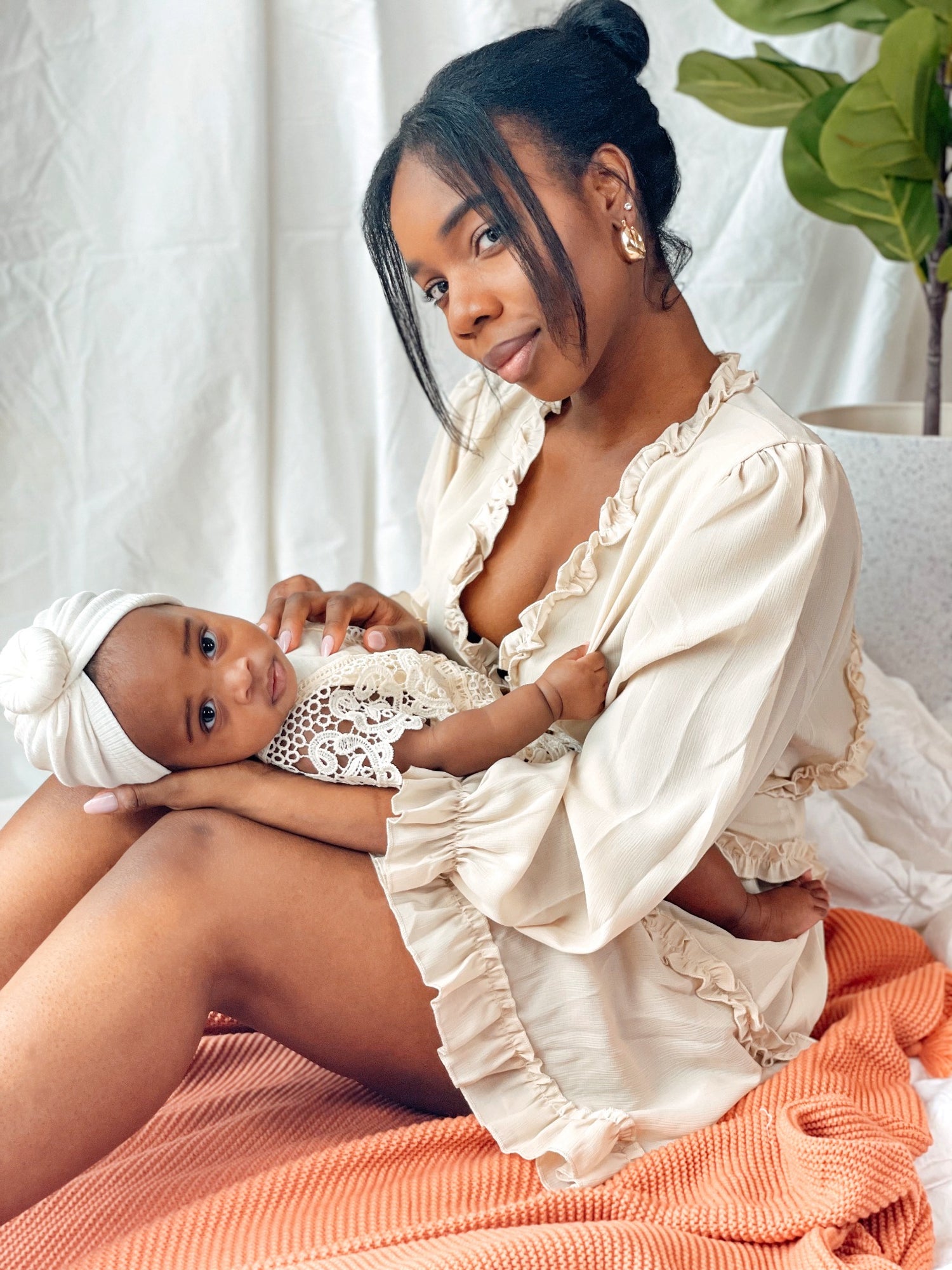 Mommy Owned, Baby Inspired
"As a new mom, I worried about everything! One of the things that concerned me at the time was the lack of available products for and information about haircare for babies with naturally curly hair. We all know that textured hair requires a bit more love and care, but to add to that babies in general are more prone to hair loss due the damaging effects of friction from constantly laying on their backs, or car seats, highchairs, you name it! Being very mindful of this, I wanted to make sure I did what I could to care for my baby girl's hair from the very start. On my search for what I would need to care for her developing hair, I was left with options that didn't fully meet my needs. One of which were your traditional cotton baby hats that dry out and break your hair ultimately leaving your hair lifeless and damaged. I wanted something better for my baby girl, so I decided to create it myself. Today we have a beautiful assortment of satin-lined accessories made not only to protect your baby's hair but do so in such a simple and beautiful way. Now, nurturing Aarin's hair is more than just a routine, it's a celebration of love, beauty, and motherhood. Aarin & Co. was inspired by my daughter, for my daughter, and is a true labor of love. I am thrilled that you found our shop because I am so excited to share our products with you! "
-Mama Aarin
Hair care + Style
Never compromise when you can have both.