Modern. Stylish. Protective.
Our curly conscious accessories bridge the gap between fashion and haircare affording you an effortless way to care for your baby's developing hair from birth. Our signature satin-lining protects your baby's hair by providing a friction free surface that prevents frizz, dryness, knotting, and breakage.
Let customers speak for us
I absolutely love her satin lined beanies. The quality is amazing and my baby girl still looks super cute and girly in them!!!
Jersey Beanie Trio Bundle (BDPK)
Black Jersey Beanie
Made for any race
My daughter was getting bald spots from all this laying around and these honestly saved her life I had tried rosemary water rose water I was trying anything to help her hair grow and not get damaged and honestly these hats are heaven I had ordered a m/l by mistake and my baby is 3 months old and it did fit kingda big I would suggest the s/m for kids 6months and under also personally I loved the Ones u don't tie die to the fact I feel it's more comfortable when they lay back then laying on a knot I do have both kind and she does wear the one you tie when she's up and going or up that way she don't try to pull it off but back to the point do buy so worth the money
Mauve Ribbed Turban
So good it got stolen in the hospital
Unfortunately, my pregnancy didn't go as expected by the time I got my stuff from the hospital I noticed that the hats were gone. Please help!!!
Mint Jersey Beanie
I have not received anything yet
Dusty Pink Jersey Beanie
Very cute, fits well
It fits very well, it's stretchy and the satin is soft and will protect babe's hair well. Now if only I can get her to keep it on…
Linen Flat Knit Beanie
I never received my new order
Hi, the first one i received was beautiful. However too small for my infant. I purchased a second it said delivered but I never received. I guess that'sa usps problem, was there insurance on this package?
Dusty Pink Turban
Hope not
I am going to buy this product and I tell you for the price it's not bad,not bad at allllll . But hey if my daughter gets. Bald spot on the back of her head and it look like an old man .. I want my refund period…
Camel Ribbed Bundle
LOVE LOVE LOVE these scrunchie
Omg these are amazing I love these sooo much I'm so sad that the black are now out of stock but I will definitely be buying more.
Mini Silk Scrunchie-Princess
Love it! Baby doesn't mind wearing it. Very soft.
Khaki Jersey Beanie
Love the Jersey Beanie Trio Bundle
I purchased the Jersey Beanie Trio Bundle for my grandsons, because I loved the satin lining. The product is well made, and the colors are vibrant. I am looking forward to seeing them in the beanies.
Jersey Beanie Trio Bundle (BSK)
Super cute
I love love them! Thank you!
Adjustable Oat Ribbed Turban
Lavender Jersey Beanie
I love it . It leaves my daughter hair moisturized and I feel it protects her hair from bolding. Thank you for this amazing invention silky hats .
Lavender Jersey Beanie
Snow Jersey Beanie
Stylish and Protected
This beanie is stylish and protect my newborn hair perfectly. The s/m size fits my son crown and is scratchable for my growing king. The quality of the beanie is very good material and I will be investing in more.
Khaki Jersey Beanie
Quality. Luxury. Comfort.
Our accessories are purposefully made with premium fabrics and materials inside and out. Not only are they beautiful to wear and protective, but super comfy on your baby's delicate head and growing hair.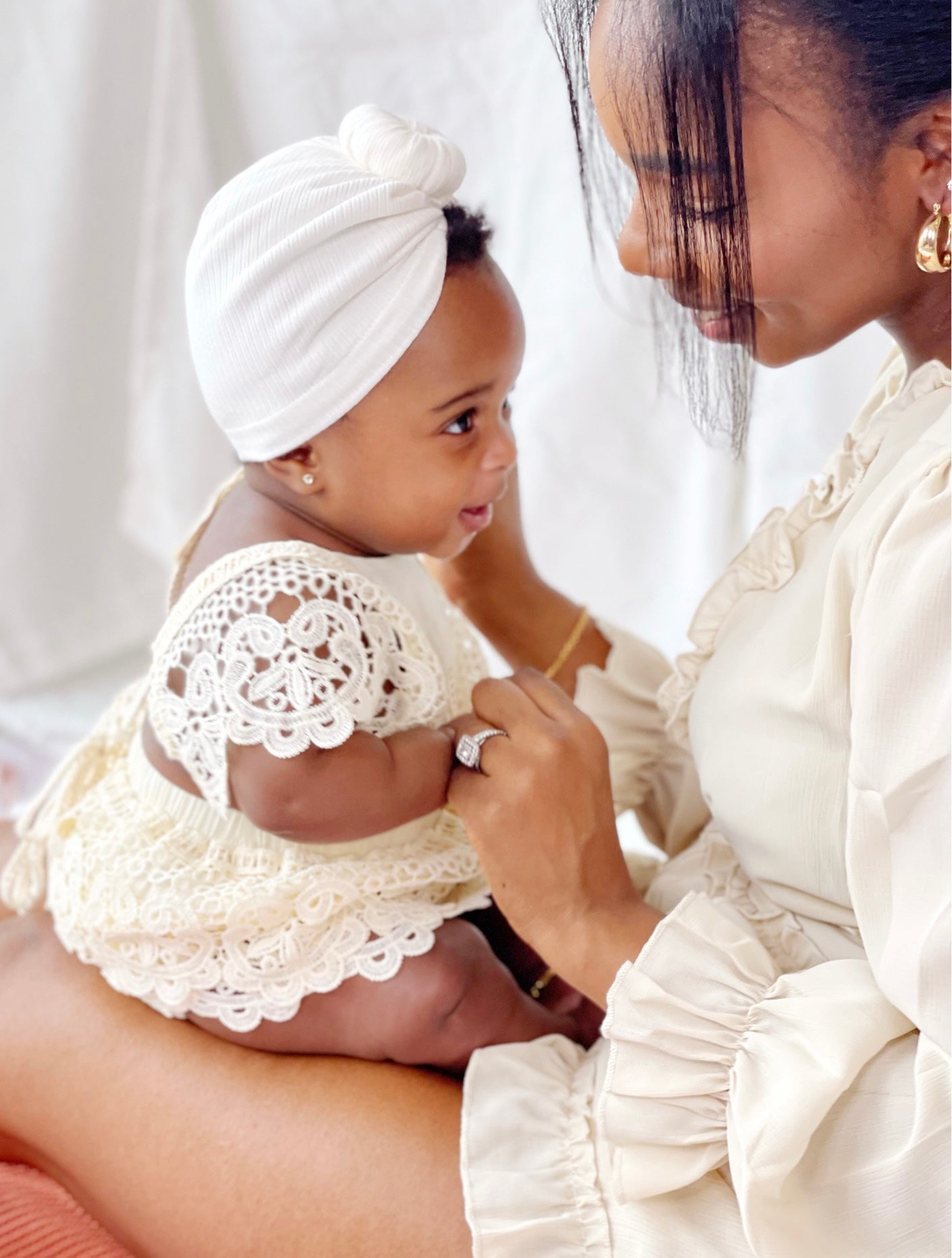 Mommy Owned, Baby Inspired
At Aarin & Co., we're all about celebrating your little one's hair in its most vibrant, natural glory. Just like you, we believe that hair is more than just strands – it's a canvas of self-expression, a tapestry of stories, and a reflection of love and care. Our mission begins with a simple principle: healthy thriving hair is a lifelong journey, and it starts at birth.

As a mom owned brand, we understand the never-ending To-do list! We are on a mission to help you reimagine caring for your little one's hair through our thoughtfully designed high-quality products. Whether you're looking to promote hair growth or prevent all the frustrations (dryness, frizz, knotting, breakage) that lead to unmanageable hair, we want to provide you with simple ways to achieve your goals without disrupting your existing routine.
While our products are undeniably stylish, they are more than just accessories. They bridge the gap between fashion and haircare affording you an effortless way to care for your baby's delicate hair from birth – jumpstarting their healthy hair journey. Together, we're redefining what haircare means, one satin-lined headwrap (and other great products) at a time. So, here's to healthier baby hair (literally!), worry free parents, and happy babies!
Hair Care + Style
Never compromise when you can have both